Кролик официально встречает швейцарского президента с флагом... Дании.
Может, не заметят, всё равно деньжат подкинут?
Ukraine greets Swiss president with Denmark's flag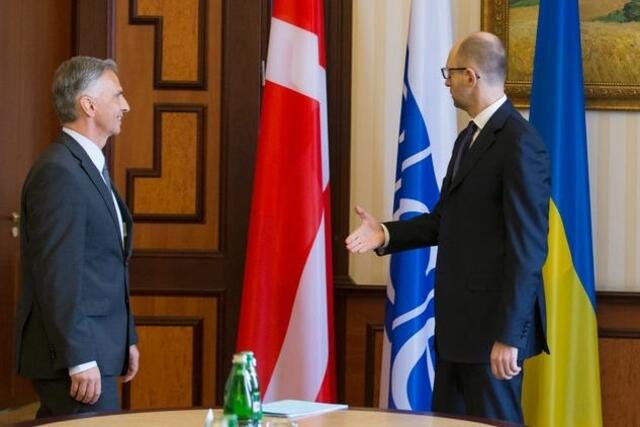 You know that awkward moment when you suddenly realize you've greeted the Swiss president by flying another country's flag?

That was the unfortunate backdrop for a meeting in Kiev between Switzerland's federal president, Didier Burkhalter, and Ukraine's prime minister, Arseniy Yatsenyuk, convened Monday to discuss rising tensions between Ukraine and Russia.

With all good intentions, Yatsenyuk's office had arranged to have a Swiss flag in the office along with Ukraine's for the moment when the two political leaders shook hands. A lovely gesture, had it actually been the Swiss flag. But it was Denmark's flag instead.

Admittedly, the two do have some key features in common — a red background with a white cross. The Swiss cross, though, is small and centered in a field of red, while the cross on the flag of Denmark extends all the way to the edges. Burkhalter didn't let the mix-up get in the way of the crisis discussion, though he did point out the Danish flag before shaking Yatsenyuk's hand...
Комменты жгут:
...Is this the guy that John Kerry gave 2 billion dollars loan? I don't know who I should blame the most... the money hunger idiot or the natural idiot that provided the money:))))))))))))

...See it's not just America's school system.

...See what happens when they buy a Swiss flag off eBay ... that was made in China !!!

...A sure sign of international strength by the Obama- backed morons in the Ukraine

...Ukraine is a nation of crooks who suck money from us and the EU. Russia should take it over and do us all a favor